Sight Seeing
The cities of Orihuela, Murcia, Alicante and Elche are easily accessible from Cabo Roig, with plenty to see and do! An ideal holiday destination for everyone!
Cabo Roig is on the Orihuela Costa, a 16km stretch of beautiful coastline starting north at Punta Prima to south Mil Palmeras, there are many parks and nature reserves which have walks and cycle paths. The city of Orihuela (previously the provincial capital until transferred to Alicante) lies about 20km inland and has beautiful architecture from Gothic, Renaissance and Baroque periods.
Torrevieja
The area around torrevieja is famous for its huge salt lakes. Today, the salt production is one of the largest in Europe. The salt lakes are impressive and home to a unique and protected wildlife including the delightful flamingos. So if you are in the area, spend some time there with your camera and binoculars!
Parque de las Naciones / Park of the Nations (Dragon Park)
Something for the kids! Just off the N332 in Torrevieja is Dragon Park - A large family park, peaceful and tranquil with fountains and palm trees. There is a fantastic dragon slide on the children's playground, a bouncy castle, train rides, a boating lake with ducks, geese and about 3000 colourful carp. There is also small animal enclosure with iguanas and tortoise.
- a short video tour of Torrevieja by David and Jessica Hayes of the Hayes Guide.com
Cuevas del Canelobre / Caves of Canelobre
At Busot, 24km North from Alicante and at a height of 700m, the interior of the caves has one of the highest vaults in all of Spain and is very similar to a Cathedral. One can admire the varied and whimsical forms that the rocks have adapted: candelabra, animals and many other spectacular shapes. On certain occasions the unsurpassable acoustic and atmospheric conditions of the caves are availed of to provide entertainment whose main protagonist is music.
Busot also offers various hiking routes to enjoy nature with unique views of the whole region and what better way to get your strength back than sample the exquisite local gastronomy, of which you will find in good supply.
Hours:
1/10 – 20/6: 11.00 – 17.50
Easter Week: 10.30 – 19.50
Rest of year: 10.30 – 19.50
Tel: 96 569 92 50
Exit (Salida) 67 Autopista A7 or at El Campello N332
Sierra de Escalona
A vast area of forest, just inland from Campoamor. Although low altitude and close to the coast, the forest is still home to many bird species including birds of prey and mammals. The trees are mainly pine, arbutus and oaks. Walk through the many ravines and glades around La Vereda de la Sierra de Escalona, through to el Puerto de Rebate. Drive along the A-V-3011, A-V-3501 or A-354. Just a 20 minute drive from Torrevieja.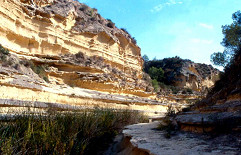 Guadalest & El Arca Animal Sanctuary
When visiting Guadalest be sure to take a trip down to the El Arca Animal Sanctuary, it is well signposted and not to be missed.
Orihuela Costa
a video guide by David and Jessica Hayes of the Hayes Guide.com